5 Remembrance Day weekend activities for families
23 October 2023
History & commemoration

Ideas & info
Commemorate Remembrance Day weekend as a family with these five activities for all ages.
Across the world, people will observe Remembrance Day on 11 November, honouring the sacrifices of service people since World War I.

In 2023, Remembrance Day falls on a Saturday. So if you're looking for ways to commemorate and spend the weekend together as a family, here are five activities suitable for all ages.
Walk a memorial trail together
Nothing beats getting outdoors as a family to enjoy some fresh air and sunshine. This Remembrance Day weekend, why not take a walk along one of Queensland's many memorial trails? Walking is a great way to spend some quality time together while also reflecting and commemorating those who have served and sacrificed for our country. The Queensland War Memorial Register features an extensive list of more than 1,000 war memorials (including parks and avenues of honour) to visit statewide to help with planning your walk. You'll find avenues of honour at the 7th Brigade Park in Chermside, Bulimba, Eumundi, Emu Park and Toowong. Don't forget to stay sun safe!

If you're looking to make a day of it, you could pack a picnic to enjoy outside along the trail. Take a blanket, fill up a thermos and pack some delicious snacks to share after your walk. Some remembrance-themed food ideas include decorated cupcakes, biscuits and rosemary cake. You could get your little helpers in the kitchen to help whip them up before you go.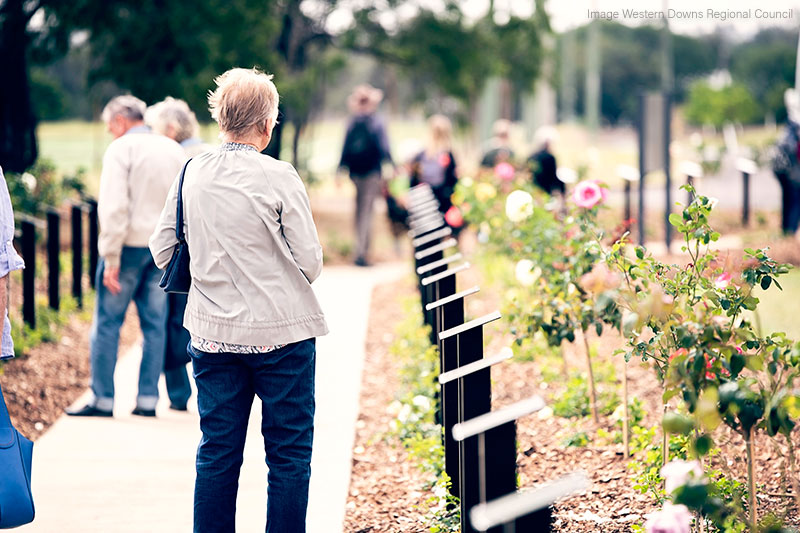 Image: Wandoan Solider Settlers Avenue of Honour, QLD
Explore a military museum or exhibition
Commemorations are important events that allow us to link our past to the present. Remembrance Day weekend offers a fitting opportunity for your family to learn more about Australia's military history. Exploring a museum can be a great way to learn together. These institutions play a vital role in collecting, preserving, researching, and exhibiting collections to educate the public about culture and history.

With so many fantastic public and private museums in Queensland, you are spoiled for choice between which to visit. No matter where you live, you can access the resources they provide.
Visit in person
Queensland is home to galleries and museums that your family can visit in person, often with free entry. Many of these institutions display military collections and artefacts, while some – such as Anzac Square & Memorial Galleries in Brisbane – are dedicated solely to the preservation and sharing of military history.
Here are a few ideas from around the state to get you started:
The Army Museum – North Queensland (Townsville) and South Queensland (Brisbane)
RAAF Amberley Aviation Heritage Centre
Anzac Square & Memorial Galleries – Brisbane
The Soldiers Memorial Hall – Ipswich
The Australian Armour & Artillery Museum – Cairns
Gold Coast War Museum
Maryborough Military & Colonial Museum
Wandering through these exhibits provides the opportunity for your family to deeply engage, interact and reflect on Remembrance Day. Visit Museums and Galleries Queensland to find one in your local area.

For those who are overseas this Remembrance Day, the Australian Department of Veterans' Affairs also provides an international list of war museums and memorials of significance to Australia's military history. Institutions include the Australian War Memorial in London, the CWGC Experience and Sir John Monash Centre in France, and Hellfire Pass Memorial Museum in Thailand.
Jump online
If you can't make it to a museum in person, many institutions offer online collections to explore. For example, the Australian War Memorial has an extensive collection of digitised official histories from WWI and WWII to peruse. You can browse through unit diaries, photographs, reports, official histories, and rolls – all from the comfort of your home.
If military service runs in your family (or you'd like to find out if it does), another great resource is the National Archives of Australia's Defence and War Service Records. The Archives hold over 1.5 million records, which can help your family learn more about their ancestry online. Whether you already know or discover for the first time that your great-grandfather fought in WWI, knowing more about your family's history provides the perfect opportunity to commemorate together.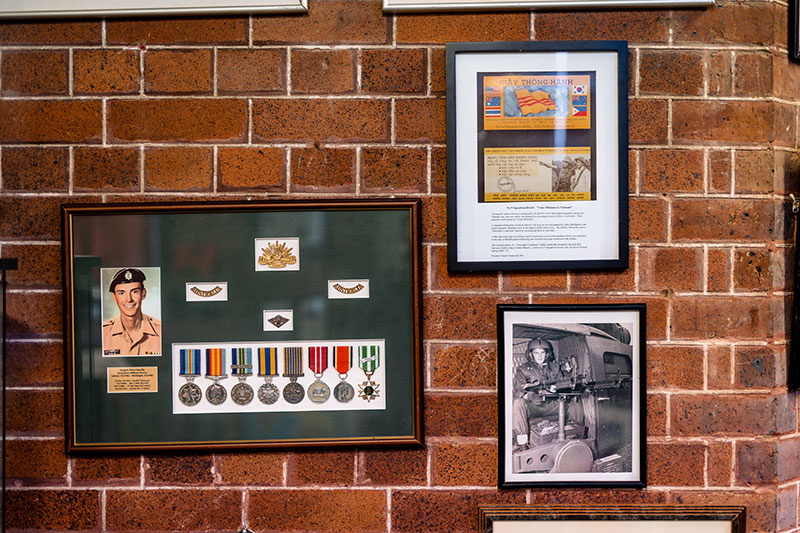 Ipswich War Museum
Get creative
If your kids love arts and crafts, why not organise some fun activities to help them unleash their inner Picasso while also commemorating Remembrance Day? You don't need to invest in a heap of supplies to do this; masterpieces can be made from many repurposed, recycled and inexpensive materials.
Need some Remembrance Day craft ideas to get those creative juices flowing? Your family could:
create a Remembrance Day poppy wreath to display in your home
sketch some colourful remembrance chalk drawings on a concrete surface such as your driveway or footpath
make a paper poppy to wear
decorate a card
For older kids, you could facilitate a home workshop to make your own remembrance candles, crochet your own red poppy, or write a reflective poem.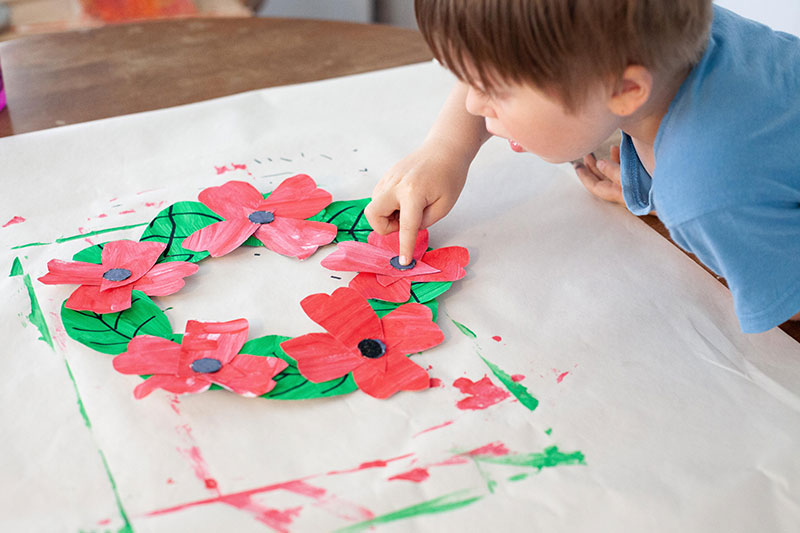 Check out what's happening at your local RSL Sub Branch
RSL Sub Branches act as a central meeting point for ex-service personnel, offering social and wellbeing support, and advocacy services – and a great sense of community.

On 11 November, most Sub Branches will be hosting Remembrance Day services, and some will also run other social events such as barbecue lunches or fundraisers.

As an added bonus, many Sub Branches are located in stunning parts of Australia, offering a unique place for your family to commemorate and enjoy the surrounding atmosphere. If you're local or lucky to be travelling nearby, here's just a few Queensland Sub Branches we'd recommend visiting:
Brisbane – Bribie Island RSL Sub Branch, Wynnum RSL Sub Branch
Central Queensland – Capricornia & Rockhampton Region RSL Sub Branch
Far North Queensland – Cardwell RSL Sub Branch
Fraser Coast – Hervey Bay RSL Sub Branch
Gold Coast – Tweed Heads & Coolangatta RSL Sub Branch
South Burnett – Blackbutt RSL Sub Branch
Sunshine Coast – Mudjimba RSL Sub Branch
Toowoomba / Darling Downs – Crows Nest RSL Sub Branch
Whitsunday / North Queensland – Proserpine RSL Sub Branch
Whichever Sub Branch you visit, each is special in its own unique way. Reach out to your nearest one to see what they're planning for Remembrance Day.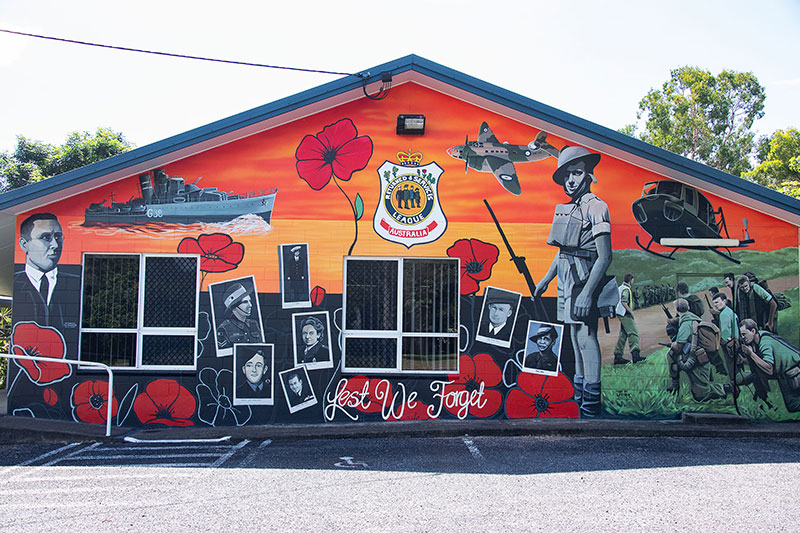 Cardwell RSL Sub Branch
Spend some time with veterans in your community
Take time as a family to check in with loved ones – including relatives, friends and neighbours – who have served. You can show support this Remembrance Day by paying them a visit, organising an outing, making a phone call, setting up a video chat, or sending a thoughtful message to the veterans in your life.
To go the extra mile (especially for older veterans), consider offering to help with errands such as doing a grocery shop, cooking a meal or driving them to an appointment.
Remembrance Day weekend is also the perfect opportunity to meet other veterans from all walks of life. Your local RSL Sub Branch acts as a central hub where veterans can enjoy mateship and camaraderie via social connection with other members. Many RSL Sub Branches welcome newcomers to visit, meet and socialise with the veteran community.
Remember to remember
This Remembrance Day (11 November), join millions worldwide in honouring those who died in service to their country.
Attend an RSL Sub Branch service, observe a minute's silence at 11am or donate to the Poppy Appeal, and help keep our service people's legacy alive.
Lest we forget.